Common Hiring Mistakes (and how to avoid them) with Misti Mazurik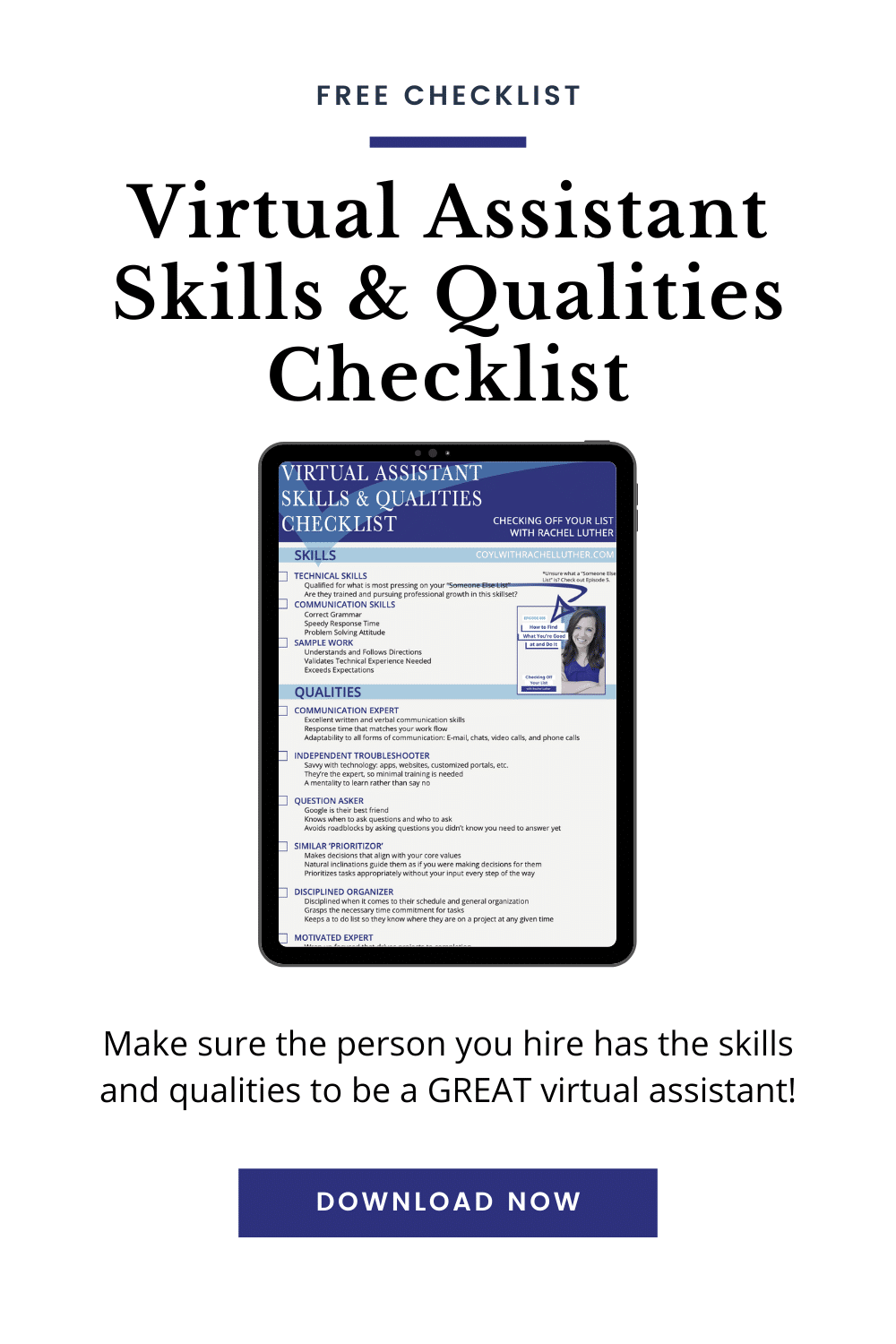 On this episode I'm going to explore some of the most common hiring mistakes, most of which I've made myself. So, sit back for the ride as you get to listen in on my conversation with Misti, our HR manager, as we can evaluate our current hiring process at Check Off Your List.
Misti sheds light on areas like the importance of setting expectations from day one of the hiring process, rather than selling the position. We discussed the need to create an open conversation where the potential team member learns what to expect on good and bad days in your business environment. We even explore the cost of hiring someone new versus the possibility of expanding the role of a current team member. Whether you're considering your first virtual assistant or hiring is old hat to you, settle in to join the conversation between Misti and I as we discussed some common HR mistakes.
Rachel: Misti thank you so much for joining me today I'm very excited to have our first guest interview on Checking Off Your List with Rachel Luther, and I'm excited to share that process with you.
Misti: I'm very excited too and I'm so honored to be the first guest. I'm really excited.
Rachel: Yes, so, I wanted to talk to you today about HR, and primarily HR mistakes. I've made plenty of them, which I've talked about in the last couple episodes, but I know in your vast experience of HR that you have a lot more that you could just shed light on in this conversation. And as we evaluate our hiring process at Check Off Your List, because we're hiring some new positions right now, I just thought we could take the opportunity to record this conversation in hopes that other people can also learn along with me. So thank you for taking the time to do that with me today.
Misti: Oh, I'm excited.
Rachel: So one of the things I've heard you say many many times is that maintaining professional relationships and communication, things like that are key. But when you're hiring someone, what else do you keep tabs on when you tackle HR for a company?
Misti: Well, I keep track of a lot of things, but one of the things that I think is a big one is, you consider the cost of training versus the cost of employees. Before you're hiring, you invest in your team members so that you're not hiring. Good employees don't stay solely because of money, people stay because they feel valued, and they feel like they're contributing. And expansion, of course, does require hiring, which we are doing right now so I'm very very excited about that, but you don't want people when you're hiring, to walk into an environment where employees don't want to be. And I think we've worked very hard on having a culture where people really want to be here. And I'm excited about making that happen even more.
Rachel: Yes, yes. So you mentioned culture, I think that's a really important aspect in hiring from our conversation and things that we've talk about, and I know you mentioned in the past, while you're selling when you do HR, you're not selling the position, necessarily. You're selling your culture and your environment, and alluding to employees that want be here. I think that kind of supports that same concept. When you're interviewing, you want to set an expectation or something of what to expect at your company. I'm curious what you think is most important to ensure that you get the right people interested, and set that expectation as you're hiring?
Misti: Well I think you need to be 100% realistic about the job and about the company. I think you need to share the good, the bad, and the ugly. I know I just did an interview, not, this week actually, and you know I I tell people that sometimes this job can feel overwhelming because you do serve more than one person. But I do think it's so honest to be transparent about what the job description is, and I think it's important, which it's easy for me to tell people how wonderful Check Off Your List is, because I wouldn't work anywhere else. I love it here and it's truly a great place to work, and we have a great company culture where you never feel like you're by yourself, you never feel alone. And I think it's important to communicate that to people that have never worked in a virtual environment, that even though you are by yourself, you don't feel by yourself.
Rachel: Yes, that makes sense. I think that's one of the areas where I failed at hiring in the past. I remember one time I hired someone and they came to the first day, we did some training, and then they didn't show up again, ever. And obviously it was not for them, and somewhere along the lines I didn't set the expectation, I didn't communicate effectively, I didn't give them a good indication of what to expect for the position because they decided after one day that it's not for them. Which, I appreciate that, rather than like weeks in, it's not working and we're trying to make things work that don't, but it would have been much easier to figure that out in the hiring process. It would have been easier before background checks, before checking references and before all the training. And so, how would you recommend doing that? I know that you talk about interviews being a conversation, can you tell me more about how you tackle that conversation and what your objectives are when you have those conversations?
Misti: Absolutely. I think it's important that you're honest in what you're looking for. Are you looking for that seasonal or temporary person, or are you looking for somebody that this is going to be their forever home? I really think that that's important to let people know. You do want to be realistic about the job description, as well. You want to tell people what they're, the good things about the position, the bad things about the position. Let's face it we call it work, we don't call it play. So you want to be honest. And people do appreciate that. You want to look for, you want to talk about those long term things and how they can grow with the company. You definitely want to outline that growth potential for them if this is a position for a forever home.
You, as the interviewer, aren't the only one that is making a decision. The interviewee is really learning about whether they want to work with your company. So in some ways you are selling. So you have to be very very conscious that this person is also making a decision, so you want to talk about your culture, and the values and the overall work environment. And you, again, want to be realistic, and you want to tell people exactly, exactly what you expect. And maybe describe some of the pitfalls and some of the things that if they accepted the position, that would happen, and how you combat those and how you work through them. I do think that a good employee is hard to replace, so you do need to talk about everything and be transparent. People really do appreciate that transparency during the interview process. Even though you are selling, you need to strike that fine line between selling and giving them a realistic preview of the job. And people do appreciate honesty, because that kind of sets the tone for how you would be as an employer.
Rachel: Yeah, there's a lot to consider when hiring. Some of that I hadn't necessarily even though about until you you were saying it. There's so much to consider, and at Check Off Your List, we hire people from all different backgrounds, backgrounds and professional experience, and just different skills, because we provide all different aspects of back office support. So anything from HR to social media strategy to bookkeeping-- none of that is the same in their skill set. It just overwhelms me. How do you juggle all of those components when you're hiring?
Misti: I think you need to know exactly what you want, because you can get distracted by people that you like. I can't tell you how many people I talk to that I absolutely love, had a wonderful conversation, would probably be friends with them, but you know there are certain skills that you're looking for and I think sometimes we try to fit a square peg into a round hole. Just because you like someone doesn't mean that they're necessarily a great fit for the company so you've got to keep that checklist in front of you and make sure they are checking off the list, so to speak.
Rachel: Yes, I do love my checklists. Misti, thank you for sharing all your insight. And honestly, Misti, I learn something new every time we talk, so this was beyond helpful for me.
Misti: I really enjoyed it, and like I said, I'm so excited to be the first guest.
Rachel: Yes, me too. It was so much fun talking with you.
I had so much fun doing that interview, and as I look back over my notes, my greatest takeaways were to value your current team first. As I evaluate my to do list, I need to think creatively about the people currently available before looking for someone new. And if I do need someone new, my focus should be on creating conversation that sells my company culture, not an unrealistic expectation of the responsibilities for the position. I definitely see how I made that mistake before and it created more work. I mean the ultimate goal in hiring is to take things off my plate, and I'm sure you're listening for the exact same reason.
As you find the right virtual assistant you're probably thinking through whether or not you can actually afford one. This is a fair question and something to consider as you expand your team, whether you're adding your first team member or your 10th. The better question is what is not having a virtual assistant costing me? I'm so glad you asked because that's what I'm talking about on the next episode. The numbers person in me is super excited to talk about this. I'll take a look at some of the costs associated with expanding your team and the pros and cons of different solutions, including the cost of you doing the work yourself. Not to give anything away, but I'm confident a virtual assistant will save you a lot of money, not to mention time. So subscribe, you don't want to miss the next episode of Checking Off Your List, with me, Rachel Luther.